Date: 7pm – 11pm, Tuesday 4 of September 2018
Venue: Flying Duck Hotel, 67 Bendigo Street, Prahran
Booking: Eventbright booking link
This is ARTSA's second Life Members Dinner. Held in the Glass atrium at the historic Flying Duck Hotel in Prahran, it will induct a number of industry personalities as ARTSA Life Members
ARTSA Life Membership recognises:
a significant contribution to ARTSA either as a member or non member
a significant contribution to the road transport industry
Inductees will be presented with an ARTSA Life member pin and citation recognising their contribution to industry life.
"Its important to recognise people who have served their organisations and the industry association sector over many years. It is also an opportunity to encourage on going involvement from those who are retiring, but still want to continue a professional involvement in a sector where they have spend most of their professional lives. "
— Peter Hart, Chairman, ARTSA
Date: 8:30am – 4pm, Tuesday 4 of September 2018
Venue: Lifesaving Victoria, 200 The Boulevard, Port Melbourne
Booking: Online booking at Eventbright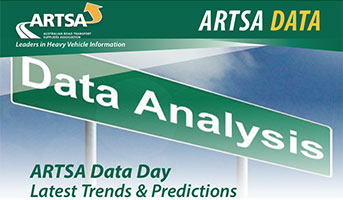 This is the third annual ARTSA Data Day covering the latest data on medium and heavy duty vehicles, and the analysis of this information.
The day will be interactive and will cover:
State of the market - Latest registration figures, total park of equipment
Continent of origin trends - What the historical data tells us
Truck and trailer manufacturers panel - What are the market trends
Joining the dots - Combining different sources, New data sources
Predicting the future including PBS data - Last year's forcasts and new predictions
With a range of presenters from ARTSA, industry and the data providers, this is an interactive day for those who need to understand the medium and heavy vehicle market.